Buy Now Pay Later Car Insurance
For many people, securing car insurance coverage is an expense they find challenging. Thankfully, there are options available like buy now pay later car insurance. This allows consumers who are short on cash to get their vehicle legally covered and delay paying the premium.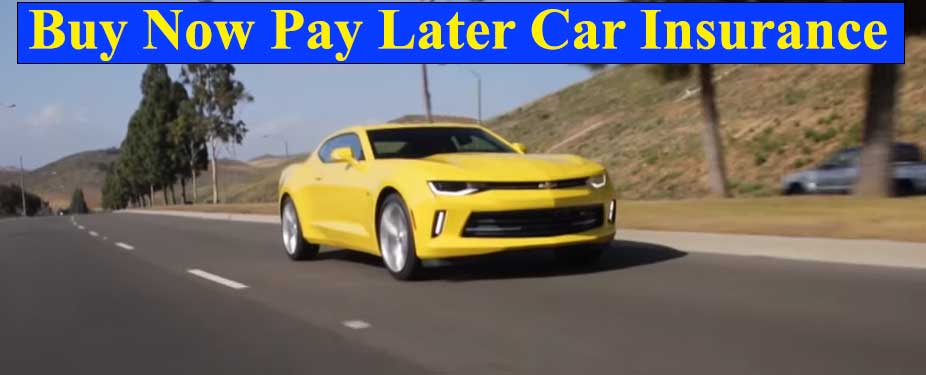 This type of policy can help those strapped for cash but still need to get coverage. Pay later car insurance is a "lifesaver" for those that would not be able to get auto insurance if a large deposit is required.
While it might seem cheaper getting auto insurance with nothing down, in reality, it's not. Carriers view customers who do not have enough money for a down payment as riskier than those who pay the entire premium in full upfront. For this reason, these types of policies are more expensive.
Some people will even use insurers by purchasing a car insurance policy with zero down, only to cancel it when the payment is due. This is why these types of policies typically cost 10% or more, than those where the premium is paid for upfront. For those tight on cash, it's well worth paying a little more over the length of the policy, by securing coverage without any initial out of the pocket expense.
The good news is there are several insurers that have first-month free auto insurance plans. This postpones the down payment amount into the second month of coverage. This makes seem like you're getting the initial month of insurance for free, but you still pay for it later on.
Most Providers Require Down Payments
From the perspective of the auto insurance carrier, a person that doesn't want to or cannot afford to make a down payment poses a higher risk.
Some people use no down policies to register a car to comply with dealership rules, only to cancel the coverage soon after. For others low on money, they might make one or two premium payments, then later stop paying on the policy altogether.
Insurance companies want long-term customers who are at low risk. Their business model is to mitigate or reduce risk as much as possible. The lower a risk you pose to an insurer, the less you will pay for coverage.
One-way carriers reduce risk is to require a down payment before the policy takes effect. Down payments offset the large onboarding related costs related to acquiring a new customer. These include advertising costs and administrative fees, like checking a person's DMV driving record. When a person buys zero down auto insurance, the insurer has to absorb these costs. They make up for it later on, if the policy is not canceled, in the way of higher premiums.
Insurers that Offer Buy Now Pay Later Car Insurance
There are several national and local carriers that sell "no down" policies. Many companies like State Farm offer coverage in all 50 states. Some, like Geico and Progressive Insurance, allow you to buy coverage direct, which saves time and energy. To start comparing quotes, just enter your zip code.
State Farm
Allstate
Kemper
Farmers
Safe Auto
Progressive
Geico
Nationwide
Auto Insurers that offer the Cheapest Down Payments
Even if you don't qualify for zero down coverage, there are still options available. One is to find out what companies have the cheapest down payments. There are several carriers that have very cheap car insurance from $20 down. This includes:
Progressive
21st Century
Geico
AAA
Esurance
Mercury
USAA
Some companies have better rates for certain types of drivers. For example, a young motorist in their 20's, with a clean driving record, can get basic coverage with Geico for under $700 per year. For retired drivers, companies like Esurance and 21st Century have some of the lowest rates. If you can get a cheaper policy with a down payment under $50 or less, then you can probably save more money than focusing exclusively on a policy with $0 down.
States that Allow Buy Now Pay Later Car Insurance Policies
Not every state allows insurers to sell zero down policies. There are several that do have these offers. They include:
California
Washington
Oklahoma
Georgia
Florida
Arizona
New York
California has the most automobiles than any other state. There are also more car insurance companies in California that offer no-down-auto-insurance. This includes direct providers like Geico and Progressive, which allow consumers to buy their policy online, even on a smartphone. To check rates, enter your zip code to get started.
Your Credit Score Plays a Big Role in Qualifying for Zero Down Auto Insurance
Credit scores are a key metric in assessing a person's risk. The higher your score is, the less you will pay for auto insurance coverage. You will also qualify for deals like nothing down car insurance.
If you have a credit score below 650, you could be considered a higher risk driver and end up paying a lot higher premium. If you have a low score, work on getting it up, and watch your car insurance rates go down.
Installment Options for Buy Now Pay Later Car Insurance
There are more payment options for auto insurance than ever before. These include paying the entire premium of three months, six months, twelve months in full, or opting for installment payments. Many consumers can't afford the full premium cost and opt for flexible monthly payments. There are also numerous payment choices. This includes:
Automatic Bank Withdrawal
Credit Card
Check or Money Order
Paypal
Most people choose automatic monthly payments, which is an easy and convenient way to pay your insurance bill.
Get All the Discounts You Can
One easy way to save more on car insurance is to get every discount that you qualify for. Some insurers will automatically add them to your coverage. Some discounts you need to provide proof for first, like an active military member. Here are some of the most common ones.
Safe Driver Discount
Bundling Home and Auto Insurance Together Discount
Multi-Vehicle Discount
Good Student Discount
Policy Payment in Full Discount
Telematic or usage-based Discounts
Safety and Security System Discounts
Senior Citizen Discount
Military and Veteran Discount
Tips on Getting the Cheapest Car Insurance Possible
Drive Safely and Maintain a Clean Driving Record
Keep Your Credit Score above 700 to get the Lowest Rates
Drive less, under 800 Miles per Month and Save Hundreds per year.
Get a Higher Deductible and Save 10% or more.
Sign up for a Telematic Program that can save you 15% and more.
Get all the Discounts you can
Compare Multiple Car Insurance Rates Online
One of the best ways to save on car insurance is to shop for rates online. Some of the best deals are often found through direct insurers that sell most of their policies online. If you need cheap car insurance due to limited finances, you should compare at least 5 quotes. You might get 2 or 3 quotes that require no down payment, but the rates will likely vary quite a bit. For example,  Young America Insurance's rates for buy now pay later car insurance coverage are very cheap.
Start your search for the best auto insurance deals by entering your zip code. See how easy it is to get cheap car insurance and pay for it later on.