Car Insurance For Less Than $100 a Month
Do you need auto insurance for less than $100 a month but are having a hard time finding it? This is a problem a lot of people have. The good news is there are steps you can take to get cheaper car insurance. Let's go over some proven strategies you can use to reduce your premiums below $100 per month, while still maintaining quality coverage that will fully protect you.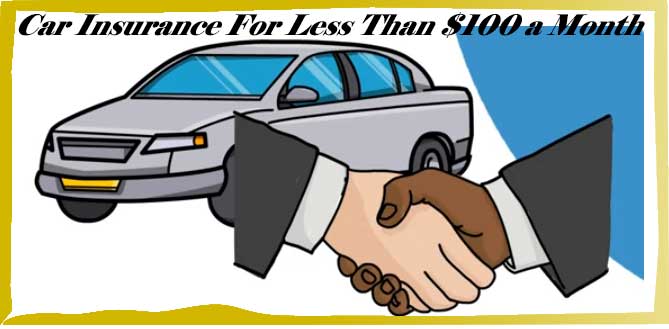 The first thing you need to do is decide on the type of coverage that you need. There are three basic types of automobile insurance coverage. These are liability, collision and comprehensive. Almost all states require motorists to purchase liability insurance, which is composed of two distinct parts. Bodily injury pays for the medical costs to the party that you injured in an accident you were at fault for. Property damage pays for the repairs of the vehicle you damaged and also property.
Liability Coverage
Liability insurance provides limited coverage, but it's also the cheapest type of car insurance. If you are a good driver with no accidents and no tickets on your record and are over the age of 25, you can often get liability car insurance for under $100 a month.
If you have an older vehicle worth less than $7,000 that you do not drive much, it might make sense to get a liability only insurance policy. However, if you own or lease a vehicle, you will be required to purchase comprehensive car insurance. Collision insurance is a type of coverage that pays for damages that your car received in an accident. It also pays for repairs or replacement of your vehicle in the event the other party does not have adequate coverage. Check rates now by entering your ZIP code.
Collision Insurance for Under $100 a Month
For new and newer vehicles that are less than 5 years old, it's a smart move to get collision coverage, to protect the investment you've made. To get collision insurance for under $100 a month, raise your deductible to $1,000. Also, get rid of overlapping items on the policy like car rental coverage that you probably already are covered through with your credit card provider. You also want to compare as many quotes as you can to find the best rate.
Comprehensive insurance like its name implies provides broad coverage. A comprehensive policy will cover you for almost anything that happens to your car, not related to an accident with another vehicle. This includes things like natural events, such as floods and fires. It also provides theft coverage, in the event your vehicle is stolen. To get comprehensive car insurance under $100 a month, buy a used vehicle that is worth less than $15,000 and raise your deductible to $1,000 or even higher.
Auto Insurance Factors That Influence Premiums
Finding cheap car insurance under $100 a month depends on many factors. When you apply for auto insurance the insurer will look at your risk profile based on numerous factors. The less of a risk you pose, the cheaper you will pay for car insurance. Conversely, the more risk you pose to an insurer, the more you will pay for coverage. Here are some of the basic factors that make up premiums.
Your Age
The Car You Drive
Your Driving Record
Where You Live
Your Credit
Homeowner or Renter
Marital Status
Driving Experience
Drivers Rewarded with Lower Rates
Drivers between the age of 30 and 65 pay some of the lowest premiums. Stats show that these drivers get in fewer accidents and file fewer claims. They are rewarded with lower rates.
The vehicle you drive is a huge factor in getting cheap auto insurance for less than $100 a month. To get the best rates, drive a used four-cylinder vehicle with four doors, that are worth less than $10,000.
Your Driving Record Is Another Big Factor
To get the cheapest rates, stay accident and ticket free. If you get a ticket, go to traffic school so it doesn't go on your record. Drive safe and watch your premiums go down.
Where you live also plays a big role in rates. Generally, if you reside in urban cities, you will pay more for coverage than drivers who live in the country. There are simply more accidents in congested areas with more vehicles than rural areas.
Credit also plays an important role in setting rates
Statistics show that drivers with good credit scores above 700 get in less accidents and file fewer claims. Drivers with bad credit get into more accidents and are more likely to file false accident claims. Keeping your credit above 700 will improve your chance of getting auto insurance for less than $100 a month.
Homeowners pay cheaper rates than renters because they are viewed as less prone to taking risks. Likewise, married drivers, especially those with children, pay lower rates because they too rake fewer risks. Your driving experience is also a key component to determining the premiums you will pay. The more years of driving experience you have, the less you will pay for coverage. Compare free quotes online now. Just enter your zip code to get started.
Teen Auto Insurance Under $100 a Month
Teenagers are the highest risk drivers on the road. Almost everyone has had any experience with a teen racing by on the road at a high speed, quickly changing multiple lanes, like they have nine lives. In recent years, this group of young drivers has become even more dangerous, thanks to smartphone addiction and distracted driving.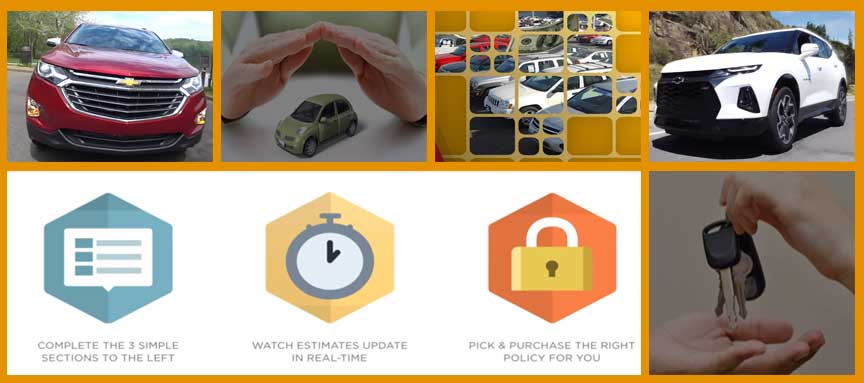 Teens are getting into serious crashes and dying because they can't put down their cellphones, even while driving. This is one of the reasons why many teens pay 200% and even 300% more than most older drivers. So, is it even possible to get teen car insurance for less than $100 per month? It can be really difficult but there are steps to take then will help lower teen auto insurance premiums. These include:
* Stay on your parent's policy. This is important and is a big money saver.
* Take a Certified Defensive Driving Class.
* Drive a boring used car with 4 cylinders and stay away from sports cars.
* Drive less than 800 miles per month.
* Maintain a B or higher GPA and qualify for a good student discount.
* Stay ticket and accident-free.
* Shop online for the best rates.
* Get a Higher Deductible of $1,000 or more.
Implementing these tips can get you coverage for close to $100 monthly for drivers under 20. While it's risky, some teenagers may be able to get a liability-only policy with a high deductible for close to $100 per month. Compare teenage car insurance rates online. Start by entering your zip.
Senior Auto Insurance For Less than $100 per Month
Seniors are some of the safest drivers on the road. Those motorists under 75 can often get coverage for less than $100 a month. For older drivers with a used car, than is worth less than $5,000, consider dropping comprehensive coverage. This will save a lot. Also, if you drive less than 800 miles each month, you can qualify for a low mileage discount. Some companies offer lower rates to seniors, so compare as many quotes as possible, so you can get the best rates.
Tips to Lower Your Car Insurance Premiums
There are proven tips you can implement that will lower your coverage costs. Here are some of the best ones:
* Raise your Deductible to $1,000 or more. This will help save you 10% or more.
* Bundle your Home and Auto Insurance with one Company. If you have two or more vehicles and home, insure them together for maximum savings.
* Get rid of unneeded coverage. Look over your current policy carefully and remove unneeded or overlapping coverage.
* Take a Defensive Driving Class and save about 5%.
* Install Telematic Tracking and get a big discount of 10% or more.
* Maintain a good credit score above 700.
* Reduce Comprehensive Coverage on an Older Vehicle. If your car is paid off and worth less than $10,000 it might be smart to get collision coverage or even a liability only policy and drop comprehensive.
Compare Multiple Quotes Online to Find the Best Deals
It's easier than ever to compare multiple car insurance quotes online. The web has made shopping for automobile insurance super easy. Often, the lowest rates can be found online with direct insurance providers. Many carriers have low deposits under $20 and rates under $100 a month. You can also check rates with local agents and brokers, but it's smart to shop first online because most people save the most with direct deals. Get started now and enter your zip code. See how easy it is to save hundreds by shopping for auto insurance online.