How Much Is Car Insurance for a 21-Year-Old Per Month?
Unlike young people who start driving at 16, a 21-year-old can find auto insurance more easily and at lower rates. Luckily for these young customers, their policy rates should gradually diminish as they reach adulthood. Do you have concerns about how much is car insurance for a 21-year-old per month? Don't worry. Just do some basic research and quote comparison. There are many companies to choose from and prices can vary quite a bit. Direct insurers often have lower rates for twenty-one-year-old drivers, especially considering if:
You have previously got auto insurance
You are studying, or you have improved your academic level
You have a good driving record
You have set up a good credit history
Insurance companies value driving experience quite a bit. As you gain more experience on the road as the years go by your premiums start dropping if your driving record is good. It's smart to analyze car insurance rates each year, in the least, as you get a year older.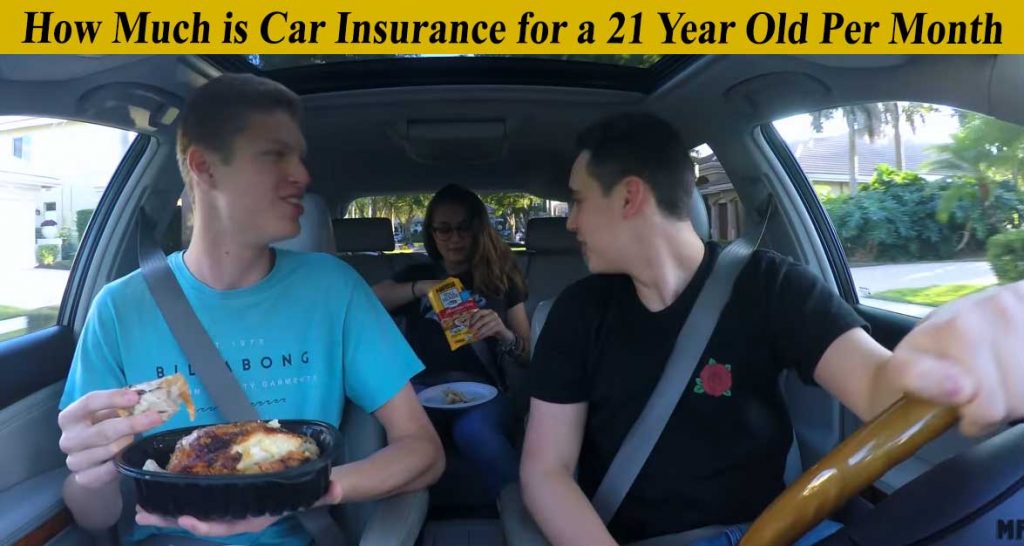 How much is car insurance for a 21-year-old?
For a 21-year-old these days, the average price of an auto insurance policy per half a year of coverage is about $ 1,284. However, there are several factors that this depends on. Some of these are:
The cost of your automobile
Your credit score
The insurance company you choose
The type of coverage you need
Your driving record
Another factor that makes 21-year-old policies different is education level and gender. Policies for young motorists are unfortunately a lot higher than the national average by a difference of $570. This occurs because 21-year-olds still pose a significant risk to insurance companies, even though they have more driving experience than younger teenage drivers. However, statistics demonstrate that these customers are more likely to have an accident or receive a traffic ticket.
How much is car insurance for a 21-year-old per Month and Why is the price of car insurance so high?
Previously, we revealed the high probability that these customers will have an accident. The data reveal that approximately 13.7% of fatal traffic accidents are caused by a young driver between 21 and 25 years old. Only people over 65 and under 20 years of age exceed this percentage. After reflecting on the arguments presented, you will understand why insurers offer you higher rates for these age groups.
How to lower the auto insurance cost of a 21 year old?
You can also help reduce the cost of your policy if you follow these recommendations:
Select a high deductible Policy. It is essential to know that the deductible is the money you will pay in an incident involving your car. The higher your deductible, the lower the monthly payment you must make to your insurer. Therefore, once this value is reached, the insurance company will assume the expense of the damage caused. You can currently have a deductible of up to $ 1,000 to $ 2,000, which would represent a significant change in the value of your premium.
Go to school and keep an excellent academic record. Insurers like young people to get good grades. Therefore, they encourage this behavior and offer a reduction in auto insurance costs to students who maintain a GPA of 3.0 or higher. Some companies will request the documents that confirm these results each semester. It will be worth it to be a good student because this will end up saving you money.
Select a car after careful thought. The vehicle you drive affects the value of your insurance. Companies rate luxury cars as a higher risk to insure. Therefore, the fact that you drive one of these cars would increase the cost of insurance. Within this type of vehicle are luxurious vehicles and tricked-out SUVs. The most practical thing is that you drive a less expensive car. Meanwhile, you will acquire driving skills, at least until you reach 25 years of age. This way, you would lower your insurance costs while gaining experience to drive a more luxurious car.
Drive fewer miles. If you work or study close to home, you will have benefits. Take into account that it not only reduces your gas costs. Living close to work and school are characteristics valued by insurance companies. In other words, driving fewer miles makes you less likely to be involved in an accident, making you a more profitable customer. So, the insurer will offer a discount on your rate.
The probability that you have an accident, living close to work or study center is lower. In other words, the less time you spend driving, the less exposed you are. Driving 3 miles is not the same as 50 to get to work since the risk is lower. For this reason, insurance companies may lower your rate since you are less likely to suffer a setback.
Attend driving classes. Driving lessons should not be limited to those driver's ed in high school. Your insurance company will like to know that their client is well prepared to drive. You may be offered a small rebate for this because these driving lessons will strengthen your control behind the wheel. Although paying for the course symbolizes an extra expense, that money would return to you in the savings you would have in the following years. You can attend these classes at local driving schools if this option does not exist at your current school. Some insurers offer discounts of about 10% to young drivers who have completed a safe-driving class.
Do not drink while driving. Drinking and driving are actions that should not be combined. It does not matter that it is legal to drink at 21 since the results of this type of behavior are catastrophic. On the other hand, if you get a DUI, it can increase your auto insurance rates. In other cases, your driver's license can also be taken away. Your insurance increase can be up to 50-60% for at least three years. Don't risk your life and avoid these infractions. Find someone to pick you up, in case you don't have a designated driver.
Join your parent's policy. When it comes to the average auto insurance for 21-year-olds, we always recommend adding yourself to your parent's policy. Wishing to be independent is not wrong. However, your parents' good record will earn you a lower rate as your parents take the risk on your behalf. When you join their policy, you may see favorable cost changes.
Quotes comparison is essential for cheap 21 year old car insurance
Comparing rates is an essential method in finding the best auto insurance coverage at the best possible rates. Therefore, this procedure is critical in the search for cheaper auto insurance for a 21-year-old. If you go through this process, you could take advantage of the fact that some insurers offer better rates to younger drivers than others.
Right now, it seems like the USAA company is awarding the best deals for young drivers. However, in order to access it, you must have a relative who is part of the army. direct insurers like Progressive and 21st Century also have good deals for younger drivers. An important part of the process is comparing as many quotes as possible. You should review, in the least, 10 quotes from regional and national providers before buying a policy. You can also use a car insurance cost calculator to estimate the rates for a particular vehicle and coverage type.
Are you still wondering how much is car insurance for a 21-year-old per month? If you have any questions about the price a 21-year-old must pay to buy auto insurance, compare price quotes in about five minutes by filling out an online application. Get started by entering your local zipcode. Review the cheapest possible rates near you and get covered for less.