If you don't currently have a license but have a vehicle, you might wonder if you can get the cheapest car insurance without a license. The short answer is yes, but it's difficult and not all insurers will offer it.
Automobile insurance is essential for anyone who owns a vehicle, whether you have a driver's license or not. Driving without car insurance is illegal in every state except one, and there are strict consequences for violating state insurance laws. This includes costly fines, impounding of your car, or in a worst-case scenario imprisonment. 
In the article below we'll go over the cheapest car insurance options available for people without a license.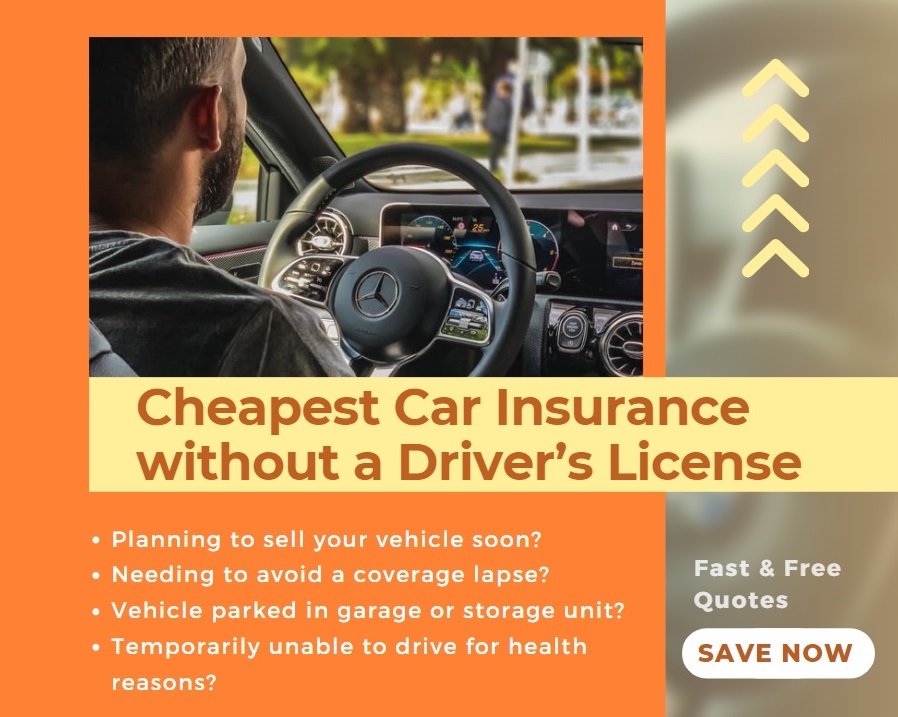 When To Buy Car Insurance Without a Drivers License
You have a vehicle that is parked but need to cover it as you plan to sell it soon, and people will test drive it. 
You want to avoid any lapse in insurance coverage so your rates won't go up
You have a driver's permit and need coverage
A family member has a valid license but cannot pay for their own auto insurance coverage
Your vehicle is in a parking garage or storage unit 
You have a medical condition that caused your license to be revoked, but still need to get covered if someone other than you drives your car. 
Can you Get Auto Insurance without a License?
Finding auto insurance coverage without a driver's license can be difficult, but it's not impossible.  If you do not have a driver's license, you may still be able to get car insurance, but you will need to do some research to find the best deals. Here are some options to consider:
Non-Owner Car Insurance
If you do not own a car but frequently rent or borrow one, non-owner car insurance may be the best option for you. Non-owner car insurance provides liability coverage when you are driving a car that you do not own. This type of insurance is often cheaper than traditional car insurance because it only covers liability and not the vehicle itself.
Non-owner auto insurance can be as cheap as $200 a month for drivers with a low-risk profile, but most people will pay around $300-$350 per year. Insurers like Progressive and Esurance have cheap rates for non-owner coverage. 
Parked Car Insurance
Parked car insurance, also known as storage insurance, is a type of coverage that protects your vehicle when it's not being driven. This is particularly useful for people who have a car they only use seasonally or are planning on being away from their car for an extended period of time. If your license has been suspended or is expired, having parked car insurance can be a good option to consider.  
One thing to keep in mind is that parked car insurance is not the same as comprehensive coverage. Comprehensive coverage protects your car from damage caused by events like theft, vandalism, or weather-related incidents while parked or in motion. Parked car insurance, on the other hand, only covers damage caused to your car while it's parked. If you get parked car insurance and move your car and it's damaged, you likely will not be covered.  
If you plan on storing your car for several months or longer, parked car insurance is probably a smart bet.  However, a factor to consider is where you'll be parking your car. If you're storing your car in a garage or other secure location, the risk of damage is lower than if you're parking on the street. Some insurance companies may require proof of where your car will be stored before offering parked car insurance.
It's also worth noting that parked car insurance typically comes with much cheaper  premiums than comprehensive coverage. This is because the risk of damage is obviously a lot lower when the car is not moving. However, it's still important to shop around and compare rates from different insurance providers to make sure you're getting the best deal. To compare parked car insurance rates where you live, just enter your zip code using the form at the top of this page and fill out a free, no-obligation quote.  
Named Driver Insurance
If you plan to drive a certain vehicle regularly but do not own it, you may be able to get named driver insurance. Named driver insurance allows you to be added as a named driver to the car owner's insurance policy. This option is often cheaper than getting your insurance policy, but you will only be covered when driving the specific car that is listed on the policy. The bad news is if you don't have a driver's license getting named driver insurance can be difficult as carriers will be assuming a lot of risks.
Insurance through a Family Member or Friend
If you have a family member or friend who owns a car and is willing to add you as a named driver to their insurance policy, this may be the cheapest car insurance no license you can get. However, it's essential to make sure that you are added as a named driver and not the primary driver. Being listed as the primary driver when you do not have a driver's license is illegal and can result in severe penalties.  
SR-22 Insurance 
 Maybe you've recently had your driver's license suspended and need to get an SR-22 insurance policy, so you can get back on the road legally. First,, it's important to understand what SR-22 insurance is and why you need it. 
In short, an SR-22 is a certificate of financial responsibility that proves to your state's Department of Motor Vehicles (DMV) that you have the necessary coverage to get behind the wheel. It's often required for drivers who have been convicted of a DUI, reckless driving, or driving without insurance. If your license has been suspended you will need to get SR-22 insurance and cover your vehicle with the proper coverage.  
Getting SR-22 Insurance with a Suspended License
The process can vary slightly depending on where you live, but there are a few general steps you'll need to follow: 
Find an insurance provider that offers SR-22 policies: You may need to do a bit of research to find an insurance company that provides SR-22 policies, as not every insurance company does. You can start by looking online and comparing the cheapest quotes for drivers that need SR-22 coverage. 
Provide the necessary documentation: Once you've found the right company, you'll need to provide them with the necessary documentation, including your proof of insurance and SR22 form.  
Pay for your policy: Depending on the company you choose, you may be required to pay for your policy in full upfront or you may be able to set up installment payment plans.   
Wait for confirmation: After you've provided all of the necessary documentation and paid for your policy, you'll need to wait for confirmation from your state's DMV that your SR-22 has been accepted.
You should note that getting SR-22 insurance with a suspended license can be more expensive than getting a standard insurance policy. That's because you're considered a high-risk driver, and the insurance company is taking on more risk by insuring you. However, it's important to have the coverage you need to legally drive, so it's worth the extra cost. Compare the best SR-22 Insurance from multiple providers to see who has the cheapest rates. 
Final Words on Cheapest Car Insurance without a License
Getting car insurance without a driver's license can be challenging, but it's not impossible. The options listed above can help you find the cheapest car insurance without a license. Remember to consider your needs and budget when choosing an insurance policy. 
Also, make sure to compare quotes from different providers to get the best deal possible. With some research and effort, you can find cheap car insurance without a license, but it will take some work on your part.