If you are serving in the Coast Guard, you might wonder what insurance company has the cheapest rates. Coast Guard members provide a valuable service that protects the mainland and are eligible for low-cost insurance through USAA. In this article, we will see what insurer has the cheapest car insurance for Coast Guards.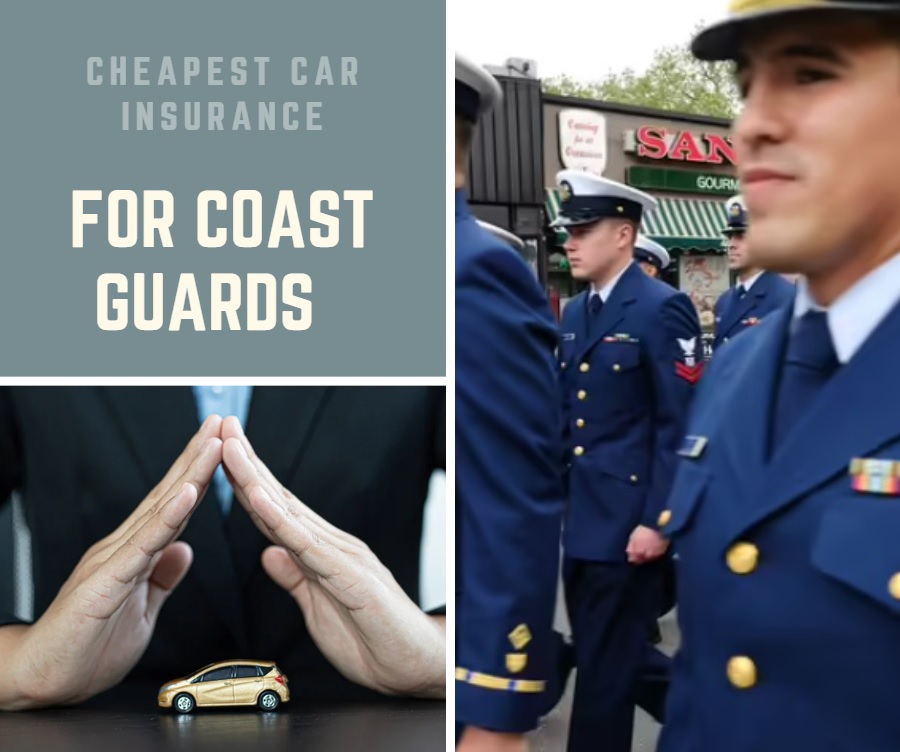 There are a few insurance companies that offer Coast Guard members discounted rates that are about as cheap as USAA. Here are the best options for Coast Guard members looking to save money on auto insurance coverage.  
USAA is the best choice for military members and their families, offering a range of insurance products including car insurance. They offer discounts for safe driving, bundling policies, and military deployment. For Coast Guard members and their families, USAA often has the cheapest rates, but not always. 
Geico: Geico rewards service members. They offer Coast Guards discounts of up to 15% for active duty, or retired Reserve members. They also offer a discount for emergency deployment and for vehicles stored on military bases.
Esurance: Esurance offers Coast Guards big discounts of up to 25% for active duty members. Esurance also offers discounts for safe driving and for bundling home and auto insurance policies.
Progressive offers Coast Guard discounts of up to 10% for active members. They also offer discounts for safe driving, bundling policies, and for being a homeowner.
To find the cheapest car insurance rates for Coast Guards, it's smart to compare at least five quotes from USAA and other insurers that offer discounts to service members. If you call an insurer to get a quote over the phone, make sure you tell the agent that you are an active Coast Guard member and see what discounts you qualify for.  
The Six Cheapest Auto Insurance Providers For Coast Guards 
Cheapest Average Yearly Auto Insurance Premiums For Coast Guards
Nationwide –  $1,297

GEICO – $1,388

Farmers – $1,404

USAA – $1,457

Progressive – $1,495

State Farm – $1,551
The above information is based on a 33-year-old driving a 2012 Toyota Camry.
Nationwide Has The Cheapest Car Insurance For Coast Guard Members 
Although Nationwide does not publish a big discount for service members like Geico does, they offer the cheapest rates for Coast Guard members. Many Coast Guard drivers can get full coverage for around $100 a month with Nationwide Insurance. 
This might be a surprise to many people and it reinforces the need for all drivers to shop around and get multiple quotes before buying a policy. It's also surprising the USAA is not even in the top three in our quote research. USAA comes in a strong fourth place but again, this is just based on our quote profile. Every person will have their own unique risk profile and a different insurer could have a cheaper or more expensive quote for the coverage you need. To check rates where you live, enter your zip code and fill out a free quote application.  
Coast Guard Auto Insurance
Men and women of the United States Coast Guard risk their lives every day to protect our nation's shores and waterways. With such a demanding and dangerous job, Coast Guard personnel need to have the right insurance coverage for their vehicles. That's where cheap Coast Guard auto insurance comes in.
Coast Guard auto insurance is specifically designed for Coast Guard members and their families. It offers protection against accidents, theft, and other unforeseen events that can happen on the road. However, not all insurance policies are created equal. Some may not provide the level of coverage necessary to protect Coast Guard members and their families in case of a serious accident or other unfortunate events, like vehicle theft.  
One of the most important aspects of Coast Guard car insurance is the ability to tailor coverage to a person's individual needs. Policies should offer different levels of coverage depending on factors such as vehicle type, driving record, and the level of risk involved. For example, a Coast Guard member who drives a high-performance sports car may require more coverage than someone who drives a four-cylinder family sedan.
Coast Guard members have unique needs when it comes to insuring their vehicles like deployment coverage or protection against damage caused by flooding or saltwater. By understanding the context and needs of Coast Guard members, insurance providers can offer policies that provide the best protection at the lowest possible rates. Coast Guard car insurance providers should be able to offer personalized customer service and understand the unique needs of members. 
How to Get The Cheapest Coast Guard Insurance  
Coast Guard members protect our country and deserve the cheapest car insurance possible with the lowest down payments. Here are some proven tips to find the cheapest car insurance for Coast Guards.* 
Compare Multiple Quotes: The easiest way to find cheap Coast Guard car insurance is to compare multiple quotes from different insurance companies. You can use this online comparison tool or contact several insurance agents who specialize in military and government employee insurance. Be sure to compare the coverage limits, deductibles, and premiums to find the best deal that meets your needs. Remember, get at least five quotes so you can be confident you've found the best rate for the coverage you've selected.  
Look for Military Discounts: Many insurance companies like Geico offer special discounts to military personnel and their families, including Coast Guards. These discounts can range from 5% all the way up to 25%, depending on the insurer and the policy. Some insurers also waive certain fees, such as installment or cancellation fees, for military members.
Consider Bundling Policies: If you own multiple vehicles or have other insurance needs, such as homeowner's or renter's insurance, you can save some serious 

money by bundling your policies with the same insurer. Many insurance companies offer multi-policy discounts in addition to military service discounts that can reduce your overall insurance costs significantly.

Maintain a Clean Driving Record: Maintaining a clean driving record is one of the most effective ways to lower your car insurance premiums. Safe drivers pay less for auto insurance, it's just that simple. To be considered a safe driver, avoid accidents, traffic violations, and DUIs to keep your driving record clean. Many insurers offer safe driving discounts or usage-based insurance programs that reward good driving behavior by way of lower rates.  
Choose the Right Coverage: When choosing car insurance, it's important to balance your coverage needs with your budget. While it may be tempting to opt for minimum liability coverage to save money, this may not be enough protection to cover your costs in case of an accident or theft. Consider the potential costs of damages, medical bills, and legal fees, and choose a policy and limits that provide adequate coverage.
Conclusion
To get the cheapest car insurance for Coast Guards, shop around and compare rates with multiple providers. Although Nationwide Insurance does not promote a military member discount, they provide the cheapest rates for Coast Guards. 
To compare Coast Guard auto insurance quotes online, start by entering your zip code and filling out a quick application. The entire process only takes about five minutes. Get the cheapest Coast Guard auto insurance in minutes and save hundreds.