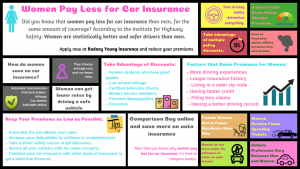 Women Pay Less For Car Insurance
Did you know that women pay less for car insurance than men, for the same amount of coverage? According to the Institute for Highway Safety, this is true for one main reason. Women are statistically better and safer drivers than men. Plus, they tend to drive cars that are of a more average status, rather than luxury or sports vehicles.
A lot of women drive with children in the car as well, contributing to their awareness of safe driving tactics. Women who are great drivers are often rewarded with lower car insurance rates. So, what's the secret to obtaining a great deal? Let's dig further and find out why women get cheaper auto insurance.
Your Driving Habits Determine Everything
The way you drive can either hurt or help you when it comes to finding cheaper auto insurance. While your credit history and driving record are also big contributors, insurance companies love insuring safe drivers. If you haven't had any driving tickets for over 3 years, you will receive a "safe driver" discount on your new auto insurance plan.
Since women and teenage girls are far less likely to engage in a risky driving behavior, which includes speeding, racing, and tailgating, their insurance premiums will be less expensive. When it comes to high premiums, it's the teenage boys you need to look out for!
A Good Credit Score Means Cheaper Premiums
On that same note, a credit score worth over 650 can also grant you lower rates. This indicates to the insurance company that you are financially responsible. Higher credit ratings mean you'll likely carry those same habits of responsibility with you on the road.
Take Advantage of Multi-Policy Discounts
Also if you have more than one insurance plan with the same company, you might be eligible for discounts on multiple policies. Once you start renewing multiple plans, you can reach loyalty status. This discount can save you 10% or more.
Cost of Insurance Claims Differ Between Men and Women
The cost of insurance claims can differ depending on whether you're a man or a woman as well. While anybody can cause an accident, they are on average more fatal for men than for women. More men are killed annually than women due to car crashes. Also, men tend to cause more accidents than women do.
This is a huge contributing factor to the differences in auto insurance policy costs for the two sexes. Insurance companies see women as less of a risk, and will likely be charged less. In short, it pays to be a safe female driver.
How Women Save on Car Insurance
It seems like women have a whole lot of advantages over men when it comes to finding cheap policy rates. Aside from the likelihood of choosing average cars and taking less risks, there are other ways for women to find lower rates. Fortunately, many of these discounts benefit both men and women, allowing the chance for premiums to be drastically reduced.
Women Can Get Lower Rates By Driving a Safe Vehicle
The first thing to consider when looking for a great auto insurance rate is the type of car you are looking to insure. You can save money on car insurance if your car has anti-lock brakes, automatic transmission, or electronic stability control.
If you have all of the above, you can save even more. You'll save even more if there are airbags, especially driver-side airbags. You can even find discounts for additional features such as anti-theft radios and car alarms.
Take Advantage of Discounts
There are optional discounts available for female students who have good grades. Other discounts include low annual mileage and those drivers who have passed a certified defensive driving course. Even military service members can receive a discount on car insurance.
Your personal demographics can also affect how much women pay for your car insurance. For example, if you are a female who is married, over 25 years old, and living in a zip code with a low crime rate, you'll get some big perks. If you own a home or park in a secured garage at night, there are some more discounts waiting for you.
Education also plays a role in cheaper female insurance costs. If you have a Bachelor's or Master's degree, you will be awarded for your academic achievement with even lower premiums.
Factors that Raise Premiums for Women
In a lot of cases, women have the advantage over men. However, this isn't always the case. There are times where men can find cheaper car insurance than women. A man may be eligible to receive lower car insurance rates than a woman, based on the following reasons:
More driving experience
Longer insurance history
Living in a safer zip code
Having better credit
Filing less claims
Having a better driving record
It's interesting that the stereotype exists about women being worse than men at driving. When it comes to statistics, it's clear that women across the board are not only safer but better drivers. Numerous studies by national driving safety organizations have found men to be far more costly to insure. It's a statistic that has proven the test of time.
Gender and Driving Statistics
Along with credit history, driving records, and demographics, your gender is something insurance companies will also look at when determining your auto insurance costs. Why exactly is this a factor in your premiums?
In addition to the fact that women drive less than men, women also receive less DUIs and take less risks than men. Since there are different risk factors involved with gender, the insurance company must take this into account when calculating risk.
There are 3 key categories that attribute to the fact female motorists are safer than their male counterparts. These are:
Frequency of Accidents
Speeding Violations
DUI Convictions
Female Drivers Get in Fewer Accidents than Men
Women are far less likely than men to get into a car accident, according to a recent study performed by the National Association of Insurance Commissioners. This means that insurers won't have to pay as much for their female customers. Since they pose less of a risk, they get lower premiums.
Women Receive Fewer Speeding Tickets
The amount and rate of speeding tickets can play a huge factor in determining the cost of your premiums. The more speeding tickets, the riskier the driver. The National Highway Traffic Safety Administration reports that, in fatal car accidents, speeding is more likely to be a contributing factor to that fatality in men than in women. Stats show that 24% of the accidents involved men who were speeding, as opposed to just 15% for women.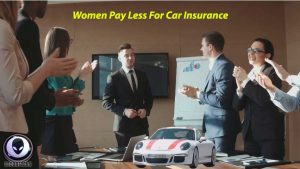 Women do Not Drive Under the Influence as Frequently as Male Drivers
DUIs are one of the most severe forms of violations you can receive. Receiving a DUI on your record can more than double insurance premiums. According to the FBI, there were 536,202 men arrested for DUIs in the year 2013, compared to just 174,149 women. It is estimated that insurance premiums can rise by over $2500 after being convicted of a DUI.
Vehicle Preference Vary Between Men and Women
A smaller, fourth category that can determine insurance rates is the type of car chosen by the driver. Men are more likely to choose cars that are more costly to insure. Women don't buy sports vehicles as often as men, which are more costly to insure. Basic cars, often preferred by females, results in lower premium charges.
Take a Careful Look at Your Coverage
You should be able to determine exactly what kind of coverage you need in order to get the best rates on your plan. Think about what you want in terms of collision, comprehensive, liability, and medical payments. If you aren't sure what these terms mean, do some research at sited like RodneyDYoung online. You can talk to one of our qualified agents about the specifics of your insurance policy.
The type of deductible, whether it is based on the market value of your financial requirements, is one of the biggest factors that determine premium costs. Where you live, what type of job you have, what kind of car you drive, repair expenses, your driving record, are all additional factors.
Keep Your Premiums as Low as Possible
If you have a vehicle to insure, the first step is to understand how different policies are rated. Obviously, gender is a primary rating factor. Other factors such as your driving record and accident history are big contributors as well when you request quotes from Rodney Young Insurance. Here are a few tips to employ to keep your premiums as low as possible:
Know that usage affects your rates. The less you drive your car, the lower your premium will be.
Raise your deductibles for collision or comprehensive if your premiums are too costly.
Ask if you can take a driver safety course for an additional discount on your insurance.
Insure all of your vehicles with the same company to get a discount on multiple policies at once.
Combine your auto insurance with other types of insurance, such as life or property insurance, to get a multi-line discount.
Comparing rates is the best way to find a good insurance plan. Instead of calling each insurance company individually, use an online comparison site like Rodney D Young to get multiple quotes instantly.
Comparison Shop Online and Save More on Auto Insurance
Now that you know why women pay less for car insurance, it's time to compare quotes. This is the best way to ensure that you are getting the lowest premiums available. Direct rates can save female motorists hundreds per year. You can use one of the many comparison shopping tools online to get started. Apply now and lower your premiums.