Good Auto Insurance Plans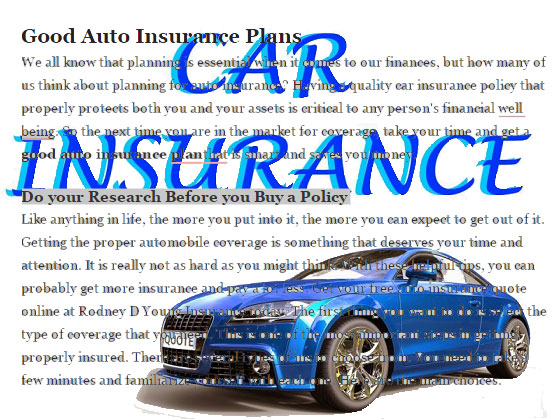 We all know that planning is essential when it comes to our finances, but how many of us think about planning for auto insurance? Having a quality car insurance policy that properly protects both you and your assets is critical to any person's financial well-being. So the next time you are in the market for coverage, take your time and get a good auto insurance plans that is smart and saves you money.
Do your Research Before you Buy a Policy
Like anything in life, the more you put into it, the more you can expect to get out of it. Getting the proper automobile coverage is something that deserves your time and attention. It is not as hard as you might think. With these helpful tips, you can probably get more insurance and pay a lot less. Get your free auto insurance quote online at Rodney D Young Insurance today. The first thing you want to do is select the type of coverage that you need. This is one of the most important steps in getting properly insured. There are several types of ins to choose from. You need to take a few minutes and familiarize yourself with each one. Here are the main choices.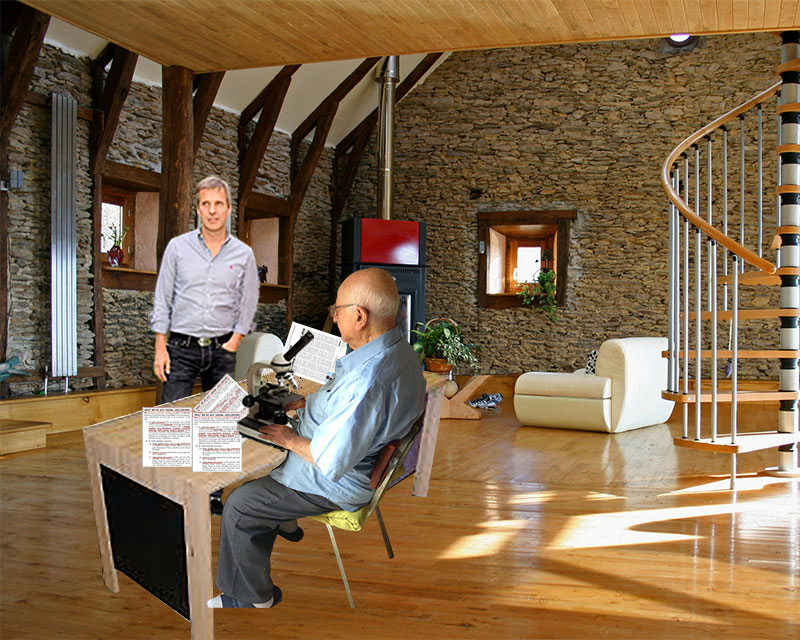 Liability Insurance
This type of coverage is the most basic and cheapest. It is cheap because it is limited in its coverage scope and often comes with lower limits. With liability, you are covered up and to your insured limits for damage you cause to another person and or their vehicle, in an automobile accident. With insurers like RodneyDYoung, liability is surprisingly affordable, with many policies starting at only $39 per month. Go online and get a complimentary quote and save hundreds.
Collision Insurance
This type of coverage will cover expenses for the repair and replacement of your vehicle, not matter who was at fault in the incident. So if you are checking your email and changing your radio all the while trying to parallel park and hit another car, you will still be covered with collision insurance. Rates for this type of protection are more expensive, but it is worth it if you have an automobile valued at more than $8,000 or more. Remember, there are more distracted drivers on the road than ever before, and this added insurance can really save you if you get into a crash.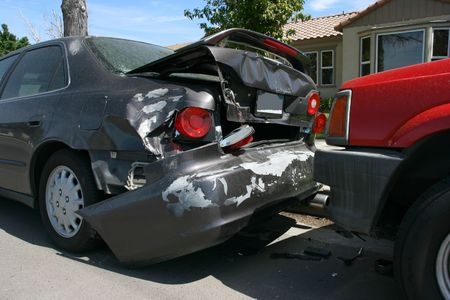 Comprehensive Insurance
The name says it all, comprehensive. Getting this type of auto insurance is not cheap but will give you peace of mind and complete coverage for your car. This will insure your ride for almost anything other than an accident with another vehicle. So if you are driving along and a rock "kicks up" and smashes your windshield, you will be covered. Other common examples include fire damage, water, vandalism and most importantly theft.
Don't just think thieves only target expensive exotic or new vehicles
The facts are thieves routinely go after used cars like the Honda Accord or Civic. This means you need to seriously consider adding comprehensive onto your policy to insure against the loss of your car, in the event it is stolen. If you do not have it, you could lose thousands. Finance companies will not give a loan to a new car in almost every case unless comprehensive auto insurance is purchased beforehand. To get the best rates on all your car insurance needs, check out the new and improved Rodney D Young website online.
Uninsured Motorist Insurance
This is an important type of ins to consider adding on. There are millions of uninsured drivers on the road today, and if you get into an accident that is not your fault, you might end up paying for damages and medical care out of your own pocket. Buying uninsured driver coverage is not as expensive as you might think. You can add it on in for as little as $10 a month.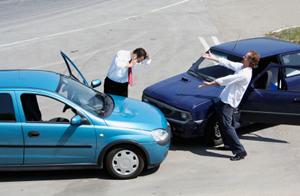 There are other things to consider adding on when getting insured, like emergency roadside assistance. If you already have this service with a company like AAA, then don't worry about buying it. However, if you do not have it and travel a lot, it is worth it. This is especially true if you are not much of a mechanic and can't even figure out how to change a tire. Some polices have this added coverage for as little as $8 a month.
Buy Direct and Save Hundreds
Now that you are educated about how to get a good auto insurance plans for less, it is time to start comparing rates. The best place to start is with direct insurers that have discounted rates. Why use an agent when you can compare policies and get cheaper ins direct? Most people can save $500 by buying car insurance online, and it is easier today than ever before. Make sure you also get all of the discounts that you qualify for on-line. Get started today with a better insurance plan with lower premiums online.