Let's start with the basic question that you might have never given much thought.
How much does your credit history affect your insurance premium? Also, what value does your credit score hold over you or whether your family members' credit information will be considered or not?
Insurance is a necessary factor and appears appealing at the point of signing the documents, but there's more than meets the eye. For example, a person's credit history does affect your policy. How you might ask? Let's take a closer look.
Reasons Why Insurers Use Credit Information
To reimburse the claim of a consumer, you need some protective grounds. Auditing the credit report can give you access to the required information on whether the person (consumer) shall be an insurance claim or not.
Credit History and Its Effects on a Person Rates
Will my credit history affect my insurance Rates? The reliability of the consumer depends on it, so yes. Each company works on a different set of factors. Some will collect other resources of information like the driving record or any past claim information.
Some insurers might just hit the bull's eye and decide whether to insure based on other factors, like past accidents. If they do, then how much the premium should be consists of many factors. In recent years, a person's credit has taken a bigger role in pricing auto insurance risk for a prospective customer.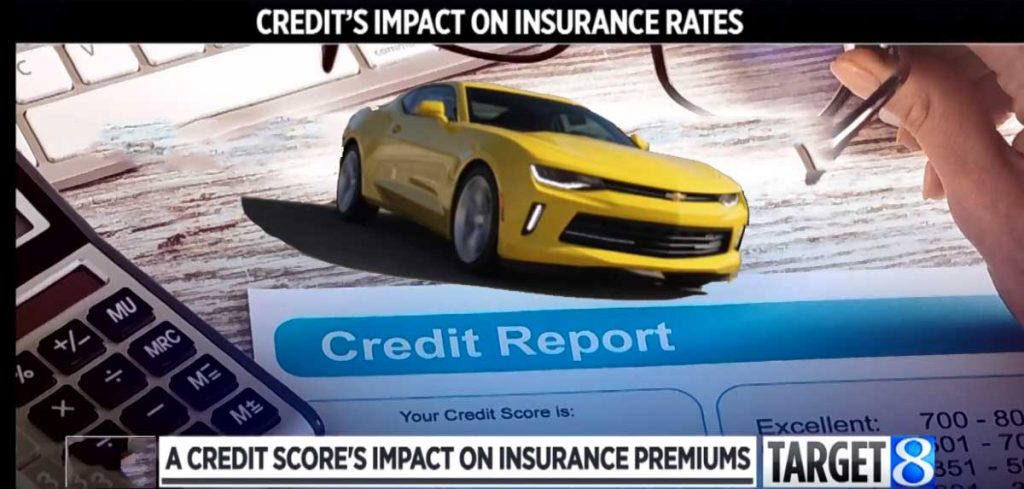 One thing to remember, if you think the insurer bypassed any credit history, then make sure to inform your agent or insurance company about the correct information. This includes your name, address, social security number, birth date, etc.
Why Insurers Factor Credit Rating into Your Policy
Generally, insurers use credit information for two main things:
Underwrite your policy: The information on your credit history is gathered, and then it's decided whether you are eligible for the claim or not.
Rating: The process to decide how much insurance is to be paid.
Type of Credit Information Used
The most common use of your credit information is for the credit score, also known as the financial responsibility score. A credit score involves using the information from the prospect's credit report.
Credit scores mostly rely on recent credit information, rather than obsolete credit history. However, some of the general factors used for the scoring models are:
Public records – bankruptcy, foreclosures, collections, etc
Past payment history – how frequent your payments were punctual or late
Time interval of credit history – for how long you have been indebted, the longer the credit history, the fewer chances of acquiring the insurance are
Number of open lines of credit – the major credit cards or department store credit cards you have with open lines of credit
Type of credit in use – credit cards, store credit cards, or loans for finance history
Outstanding debt – how much do you owe?
There Are Certain Negative Factors that Can Go Against You. This Includes:
Record of late payments
If you have already applied for mortgage loans
Having too much of credit
Too much outstanding debt
So, make sure you're all covered and check your credit history for errors and make changes where necessary.
What Is Considered a Good Credit Score?
To be honest, the answer to this question isn't so simple. There isn't a single marker that defines a good credit score. Poor credit may prevent you from getting very cheap car insurance with no deposit, but good credibility equates to a good insurance credit score. This will help you get cheaper premiums. Each company uses a separate scoring system to calculate rates.
The premium you end up paying is in part a reflection of your personal credit score. The higher the rate of the negative items on your credit report, the more the premium will be. Hence, the reason for shopping on a regular basis for cheap car insurance with low deposits can be a contributing factor to getting a competitive premium.
Are There Other Factors Affecting Your Premium?
Though credit history is important, there are some other factors as well. For instance, an automobile premium will be based on your driving record, your location, and the type of car you own. So you can go for the car insurer that has the best coverage at the lowest rates. Some of the best direct auto insurance companies include:
Progressive
Geico
Liberty Mutual
Ensurance Nationwide
Good to Go Insurance
Farmers
The General
AARP
Mercury
So, is your premium based on your credit score only? The answer is no; there are many other factors in play, as mentioned earlier.
Importance of a Good credit score
Even your agent or underwriter might not know your score, except that your credit rating is enough to make you eligible for a certain rate. Even if you manage to get a hold on the information about your credit score, it may not have any use for you.
As a matter of fact, any significant change in your credit activity or a creditor's report is a signal to your credit score and can affect it. Also, your credit score may change and not show uniform results when it comes to insurance companies.
Based on the Company's Experiences and Business Practices
Each factor will vary and influence rates independently. For instance, one company might focus on long term planning, while for the other company's past payment history. Your credit score is determined by the importance a company assigns to each of the factors mentioned.
How to know if your credit score and credit history affect your insurance coverage?
Not knowing your credit score will not affect your credit history. Each company relies on different tools to evaluate your credit score. That's one reason why rates will vary so much and down payments. You might qualify for $20 down car insurance and other special policies.
You Can Simply Ask Your Agent or Insurance Company
As stated by the Federal Fair Credit Reporting Act (FCRA), your company is required to inform you in case they need to take an adverse action based on your credit information. They can include:
Denying, canceling, or not renewing coverage
Offering limited coverage
Increasing premium surcharge
Changing the terms of coverage
Changing the amount of coverage
Your credit score will affect the policy in most cases. Insurers can decline a customer for any reason, as mentioned above.
The Bottom Line
The risk factor for insurance companies is what determines the amount a customer pays for coverage. Each company relies on its assorted factors to set auto insurance rates. If you are planning to buy automobile insurance, make sure to get your credit report and review it to make sure it is current.