Over the years, there has been a marked increase in technological development. Today, on the Internet you can find almost anything, but it wasn't like that just a couple of decades ago. Things like finding cheap auto insurance with a low deposit were challenging and time-consuming. Trying to find specific auto insurance companies that don't require a down payment was a daunting task that could take hours.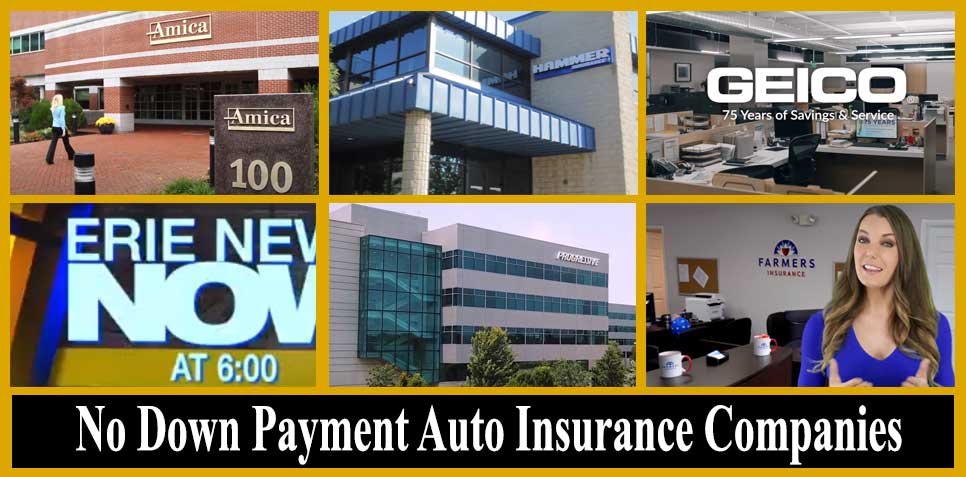 The most common way to do that search was by going through the telephone business directory and calling up several brokers and agents. The whole process was so exhausting that many people bought auto insurance at very high prices, without comparing other companies' offers. Many consumers simply purchased the first policy they found because they didn't have the time and patience to spend hours on the phone.
Auto insurance companies provide their plans on the Internet, and consumers have a wide range of options. Rodney D Young, GoodtogoInsurance, and Young America Insurance are compelling examples of this. Of course, everything has its pros and cons. With so many car insurance deals on the Internet, how can you find car insurance companies that don't require a deposit? Below, we will offer you a kind of guide that will help you get the best possible car insurance policy with low down payments.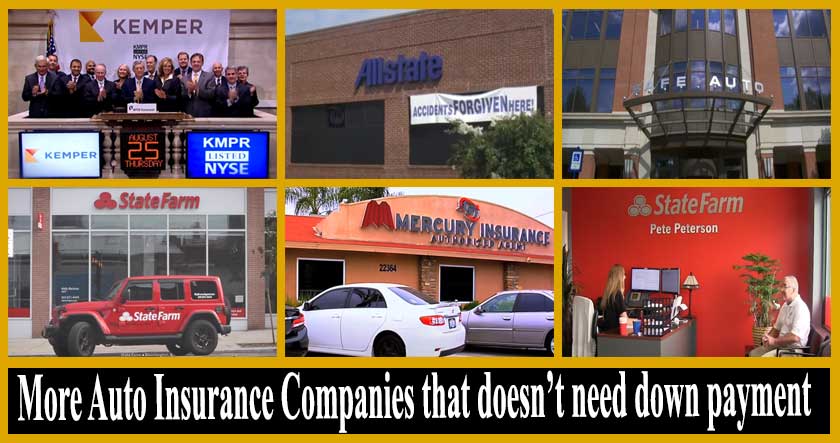 There are a few companies that have no deposit auto insurance deals, but not that many. Here are several:
Allstate
Kemper
Progressive
Rodney D Young
Safe Auto
State Farm
Good To Go Insurance
Just by going online, you can start comparing local and national auto insurance providers' best rates. Some of them do require a down payment, although it can be as low as $20 down. These low deposits fit into almost anyone's budget.
Finding zero down policies can be difficult depending on where you live. Not all states allow these types of insurance policies. The states that do offer then are:
California
New York
Oklahoma
Florida
Arizona
Georgia
Washington
There are several no deposit auto insurance companies in California. The Golden State, which has the largest concentration of drivers in the United States, also has the largest number of insurers that offer nothing down auto insurance plans.
What if the Cheapest Available Policy Also Requires a Down Payment?
Whenever customers search for the perfect car insurance, they face this dilemma. The cheapest package offered by an auto insurance company isn't always the best possible deal for your insurance needs. It would be preferable to pay a down payment or slightly higher rates on your car insurance policy if you end up much better protected and get a lower overall premium.
In general, most auto insurance companies that don't require a down payment or have low intro rates, will usually only cover liability in the event of an accident. In other words, really cheap car insurance can cover the damage caused to the other vehicle involved in an accident, but the repair bill you will receive could be very high.
Naturally, this is very worrying because you could get into serious debt. To avoid this, it would be smart to spend a little more money on your car insurance and thus ensure that it covers the damages caused to both vehicles involved in the accident. You can try choosing an auto insurance company that doesn't require a down payment after some time by having an impeccable driving record. By doing so, you could save hundreds of dollars on your car insurance each year.
Should You Buy a Cheap Insurance Policy With No Down Payment?
A cheap car insurance plan with no down payment is a good idea depending on several factors. It works for those who drive a very old car that would not be worth repairing in the event of an accident. There are many benefits that no down payment car insurance companies offer, and they vary quite a bit. Let's check out a few of them.
Traditional car insurance companies often charge high down payments. That's why for those who are going through a hard financial time, it is advisable to hire the services of companies that do not require a down payment.
Auto insurance companies that provide no down payment policies commonly offer very competitive monthly rates, which are calculated by splitting in 12 months the value of the annual premium. This means that your money stays in your pocket longer while you are already adequately covered.
Your auto coverage will automatically start once you have paid your first monthly installment. This way, you would be immediately ready to drive your vehicle legally.
Tips to Getting Cheap Auto Insurance Deals
Since getting the right policy from an auto insurance company that doesn't demand a down payment is sometimes an exhausting task, here are some tips and tricks that might help you:
Ask for possible discounts: Many car insurance companies that offer excellent rates also provide different types of benefits and discounts, such as college students with very good grades, war veterans, and many others. If this information is not public, do not hesitate to ask them directly what kind of benefits you can access.
Get an auto-payment plan: Many insurance companies will provide additional discounts if you choose to bundle a monthly premium payment plan and an auto-payment plan together.
Ask your employer for auto coverage for employees: Large or small companies may very well offer group auto insurance for employees. This type of coverage will possibly be cheaper than the insurance policy you can find on the market. That is why it is good to check if these plans are available with your company and so you could save a lot of money on auto insurance. So don't hesitate to speak to your employer and try and lower your auto insurance rates.
Do Thorough Research Before Buying An Auto Insurance Policy
You need to be patient and thorough in your search for the best car insurance. Never rush the process. In the end, auto insurance companies that don't require a down payment might be the best choice, or might not be, depending on the coverage and amount of protection you need. If you rush the process, you could miss out on great discount opportunities that some other company could offer you.
Naturally, driving without car insurance is illegal and irresponsible, so don't do it even if you haven't selected a good coverage option yet. In all states, you must have at least liability insurance. So, if possible, search for the best prices and deals on the market, compare them, and buy the best possible policy for your insurance needs. This way you will save a lot of money and time. Get started comparing rates now by entering your zip code. Save more and get better coverage today.